Lepesov Jengis(born 1945)
Lepesov is beyond doubt one of the most famous and gifted contemporary painters coming out of Karakalapkstan. After finishing the secondary school in 1966, he was admitted to the Alma-Ata Art School, where his teachers were such distinguished artists as T.Togyzbaev, M.Ismailov, graphic artists V.Krushin, B.Pak, B.Tabiyev and S.Aytbaev. From them he learned the secrets of Fine Arts, namely free hand painting and colour composition.
In 1970, Lepesov returned to Nukus to start the long and winding road of an artist's life, at the Nukus Fine Arts Production Workshops, where he worked as a decorator. Lepesov worked in different techniques and genres, predominantly finding artistic expression in land-scapes and still-lifes. He represents the essence of the Karakalpak Avant-Garde. His works are distinguished by the decorative aspect and his expressive choice of vibrant colours, reflecting those of his own culture and environment. Some of the finest works by Jengis Lepesov are now part of museum and private collections in Russia, USA, Korea, Japan, Sweden, amongst others.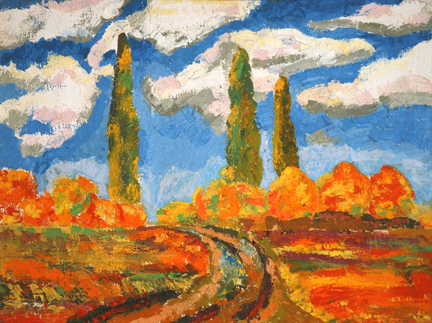 Golden Autumn. Oil on canvas. 76x56